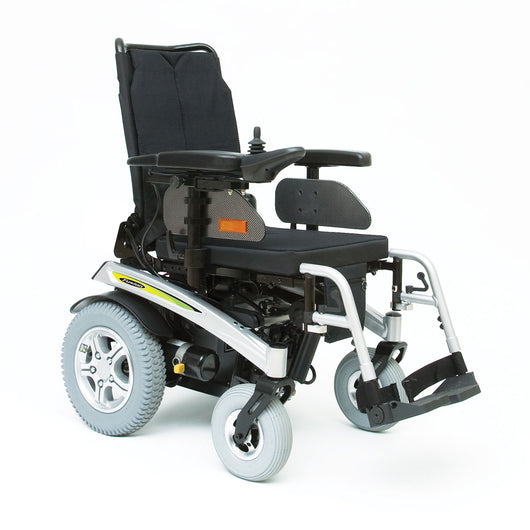 Back
Pride Fusion Electric Wheelchair From £2295
Regular price +VAT +VAT £2,295.00 +VAT Sale
The Pride Fusion Electric Wheelchair is also designed for ease of use, with neat features that make all the difference. For example you'lll notice the easy to use controls swing out of the way when you don't need them, and most aspects of the chair are fully adjustable for your convenience too. With a range of up to 15.5 miles and a top speed of 4mph, the Pride Fusion Electric Wheelchair is designed to help you go places. It requires a turning radius of just 65cm too, so there are few places that wonít accommodate this chair. Enjoy the power provided by the rear wheel drive, powered by two motors, and the support given by the two front wheels as well. The Power Tilt comes as standard while the recline can be manual or powered depending on your requirements when ordering. Key Features of the Pride Fusion Electric Wheelchair:-
Narrow 63.5 cm (25") width and compact 89 cm (35") length (without foot riggings)
Outstanding tight space manoeuvrability
Maximum speed up to 4 mph (6.43 km/h)
High-performance, high-efficiency motor package
Uniquely designed seating system is integrated with the base
Swing-away joystick
Adjustable rear suspension
Sliding battery tray
Seat back folds flat for easy transport
Reclining back
Individual freewheel levers
Additional information
| | |
| --- | --- |
| Seat Width | 46cm |
| Seat Depth | 46cm |
| Overall Lenth | 89cm |
| Overall Width | 63.5cm |
| Max. Speed | 4 mph |
| Ground Clearance | 11cm |
| Turning Radius | 53cm |
| Max. User Weight | 136kg |
| Tyres | Pneumatic |
| colour | Silver |
| Seating | Tension-adjustable, sling back plus solid seat pan |
| Recline Option | Manual Recline, Power Recline |
| Crash Tested | Yes |
Free Assessments can be done instore or at your home.  It is important to have a chair that is the right leg height, leg depth, back height and arm height. So you have the right support and doesn't cause any additional problems to you.
FREE DELIVERY
Join our Mailing list to keep updated with the latest news
Pride chairs take approximately 3-4 weeks for delivery There is no additional charge for assessment or delivery
Care Guide
Both overcharging and undercharging your batteries can significantly reduce their expected battery life. Always follow the manufacturer's recommendations and generally plan to charge regularly used devices every day regardless of how little they've been used, we recommend charging your mobility batteries overnight.  To keep your electric wheelchair in tip top condition, it is recommended to have your chair serviced on a yearly basis, which is a service Active Mobility provides.
Delivery Guide
Presecriptive electric Wheelchairs will be delivered to you and checked that everything is ok for you.  We will also go through all the features, to ensure you get the most out of your new product.  Delivery for prescriptive electric wheelchairs can take upto 8 weeks, but this can vary.  Once we have the confirmation from our manufactorer we will give you a guide to how long your chair will be.
Insurance
Even the most careful of drivers can fall victim to circumstances out of their control. Our mobility scooter insurance policy is specifically designed to give you peace of mind and keep you mobile.  These are some of the key benefits of taking out insurance.
24/7 National Accident Recovery
Puncture Repair (Puncture repair is now available on our plus insurance cover.)
No Excess
Accidental Damage (Including damage by fire, storm and flood.)
Public Liability (up to £5,000,000)
Theft & Vandalism
90 Day Worldwide Cover (including in-flight transactions)